Sesquicentennial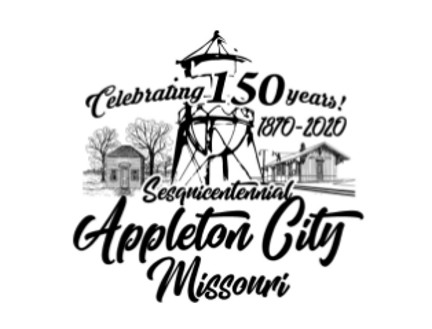 Appleton City Sesquicentennial will be June 10-14, 2020. The planning is completely underway and following is a listing of committees and their volunteer chairpersons. Anyone is welcome to participate and many are already working with the chairman listed. If you are interested in being involved, contact any chairman or Linda Lampkin at 660-476-5857 or acmolampkin@yahoo.com. If you have event suggestions, they need to be submitted immediately to be included on the schedule contact Linda.
Debbie Barber is responsible for Finance, Time Capsule and Scavenger Hunt; Linda Radford - Official Photographer. Ellen Dunham is responsible for the Costume Contest and Main Street Business Window Displays. Karla Kelly is responsible for the Tram Rides, Threshing Demonstration and Old Time Photo Op. Denise Nitchals is chairman for the Souvenirs and the Saturday Fund Raiser Supper. Kathy Rodick is responsible for the Train Speaker and the Quilt Show-Lutherans. Shellie Unell is responsible for the Whisker Contest; Shelley Davis, Historical Fashion & Song Pageant, Community Play; Kamber Grishow and Abby Sage - Local Artist Display. Linda Lampkin is working with Elected Official Invitation/Reception, Kinleigh Preston; Postal Cancellation will be handled by Dewey McQuinn. Additional activities and their chairperson are: Facebook Media - Kim Wilson; Official Video Photographer - Don Payton; Community Church Service - David Hill; Auto Display - Bob Roos; Tractor and Small Engine Display - Doug Snodgrass; Stage Backdrop -Susan Hearting; Sound Systems - Adam Logan; Veterans Display - Bill Gilmore; Signage - Lyndsi Rivera and Bill Hough; Symbol - Lyndsi Rivera and Martha Jane Taylor Williams; Grounds - Larry Huey; Security and Traffic Control - City Police and County Sheriff; Historical Movie - Oral Review, History Book, Bus Tour, Photo Display - AC Museum; Youth Animal Activities - Debbie Dains; Teen Event - Kelly Niemann; Horseshoe Contest - Joe Mart. Regular AC Fair Events: Flower Show - Prairie Queen Garden Club; Food Stand - Dianne Foster; Parade - Long Bros; Booth -Julie Cooper and Lyndsi Rivera; Kid's Games - Shelley Davis; Toddler's Swimsuit - Cindy McEvoy; Stout Baby Show and Evening Entertainment - Linda Lampkin; Carnival - Jeff Cross and Cindy Beebe; Media - Rhonda Stout.
Sesquicentennial items are available for those hard to find the right gift for people, especially those who grew up in the area. The items would be a trip down memory lane for them. Quasquacentennial books and 2020 SQC calendars are available at AC banks
PHOTO DISPLAY
The Appleton City Museum will provide a stroll down memory lane with a Photo Display during the SQC Celebration. Over 150 pictures will be on display of businesses, buildings, area occupations, leaders of the community and basically pictures of the past (anything that isn't current). If anyone would like to donate an 8x10 photo to the Museum for this event, they will be glad to display it. However, they ask for prints that will become the property of the Museum in preserving AC History. The deadline to submit will be April 1, 2020. They may be mailed to: A.C. Museum, 305 N. Maple, ACMO 64724 or you can drop them off workdays at the museum, which are some Wednesday afternoons during the winter.
COMMUNITY PLAY
There will be a community play held during the Sesquicentennial event in June 2020. Abby Sage and Kamber Grishow are producing and directing the production and would like to formally extend their invitation for all those who wish to be a part of the event to please contact them. Whether you are interested in acting, assisting with costumes or set design, or simply want to offer your help with the process but don't know how, please let them know. Auditions for the play will be held later in January (date TBD). Sage can be reached at (417) 766-8708 and Grishow at (660) 492-3502. More information can be found on the Appleton City Community Play Facebook page.
COSTUME CONTEST
Rules for Sesquicentennial Costume Contest, Wednesday, June 10, 2020 are as follows: Contestants must be in 1870's period costumes. Preregistration will be 7:00 p.m. at stage with the contest at 7:30 p.m. Age groups will be: Children 0-10, Children 10-18, Men and Women over 18 and Groups. 1st - 3rd place prizes will be awarded in each category.
Early Day Costume Dress Code will be encouraged throughout the celebration as well as wearing Appleton City apparel. You don't have to live in the Appleton City area to be involved. There are jobs that can be done from a distance or just when you arrive in town for the celebration. It takes many volunteers to celebrate the town's 150 years of history. They welcome you. Be involved.